it happen
ON THIS PAGE:
Not an actual patient.
what we do
We take care of treatment coordination, so you can take care of your family
Time is precious to families living with rare diseases. Spending hours dealing with treatment access means spending less time enjoying the moments that really matter. When you enroll in PTC Cares™, you'll be activating your most valuable resource—a dedicated Case Manager who will be there to support your family throughout your journey. We'll provide the expertise you need to help make the process of getting treatment easier on you. Your Case Manager will:
Work with your healthcare provider
to help collect any information we may need to support your prescription.
Reach out to see how you're doing and answer any questions you may have
to further support your treatment journey.
---
See how we can help
This short video shows how your dedicated Case Manager will work with your insurance company and your healthcare provider to help you get started on treatment and set you up for long-term success.
---
Have questions?
We're always ready to help!
Call us at 1-844-4PTC-CARES
(1-844-478-2227)
M – F, 8 am – 6 pm ET
---
WHO WE ARE
Meet your PTC Cares Case Manager
When you enroll in PTC Cares, your Case Manager will call to welcome you to the program.
They'll be with you from the very beginning, and they'll stay with you for the long haul.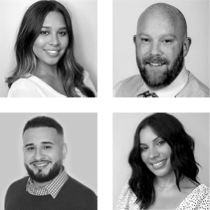 Find out who your Case Manager is by
entering your prescriber's ZIP code.
---
Greg
Associate Director, Patient Services
The PTC Cares team has had a positive impact on all of our patients, and each day we take great pride in helping our families gain access to an important therapy.
Turning insurance challenges into insurance successes every day
Trying to figure out what your insurance covers can be a frustrating, time-consuming process. Luckily, you have an expert in your corner to support you. We'll be there to help navigate the insurance process from the very first prescription through every open enrollment period—and any changes in between. Your Case Manager will help with:
Confirming your prescription
Once we receive your Prescription Start Form from your healthcare provider, your Case Manager will give you a call to confirm your information.
Benefits Investigation
We'll work with your healthcare provider and your insurance company to confirm your coverage and any out-of-pocket costs.
Explanation of Benefits
Your Case Manager will walk you through your insurance benefits and any additional financial assistance programs that may be available.
Continuing Support
If your insurance coverage changes or other challenges arise, your Case Manager will always be there to help you maintain access to treatment.
FINANCIAL ASSISTANCE
Always working to support your access to treatment
Insurance benefits can vary widely and as a result, sometimes medications can be costly. That's why we'll explore every option available to help minimize the cost to you. After your insurance evaluation is complete, we'll call to go over any PTC financial assistance programs that may be available to your family, if eligible.
The Copay Assistance Program*†
can help qualified families who have commercial insurance cover out-of-pocket costs associated with treatment.
The Bridge Program*
can provide patients who are actively enrolled in PTC Cares a temporary supply of PTC medication free of charge while they are waiting for verification of insurance coverage.
The Patient Assistance Program*
can provide treatment access to eligible families who do not have insurance or whose coverage has been denied.
If you need additional financial support, we'll do our best to connect you to other charitable patient foundations that may be able to help.
*Low to no out-of-pocket costs for most patients who qualify.
†Not valid for prescriptions eligible to be reimbursed, in whole or in part, by Medicaid or Medicare (including Medicare Part D), or where prohibited by law.
SPECIALTY PHARMACY
When it comes to medication, we're determined to deliver
What is specialty pharmacy? Like many other therapies for rare diseases, medications from PTC Therapeutics are distributed through pharmacies that are specially trained to handle them and can deliver them directly to your door. Specialty pharmacies can provide services, information, and support that regular pharmacies don't offer. We'll work closely with your specialty pharmacy throughout your treatment to coordinate the delivery of your medication.
Together, your specialty pharmacy and Case Manager will:
Help you schedule deliveries
We'll help you schedule your shipments to make sure your medication is delivered where and when you need it.
Provide refill reminders
We know how important it is to get your medication on time. So, we'll proactively monitor when your refills are due and provide timely reminders to schedule them.
An important note: You'll also receive a call from the specialty pharmacy each month to schedule your shipment. It's very important to answer these calls, because your medication can't be shipped without your confirmation and may not arrive on time if you miss a call.
Working with a specialty pharmacy adds extra value, but if you're new to the process, it may also be a little confusing. We'll always be available to answer any questions you may have about working with your specialty pharmacy. We're just a phone call away and ready to help in any way we can.
---
Helpful links